Celebrate Juneteenth in Cleveland! | wkyc.com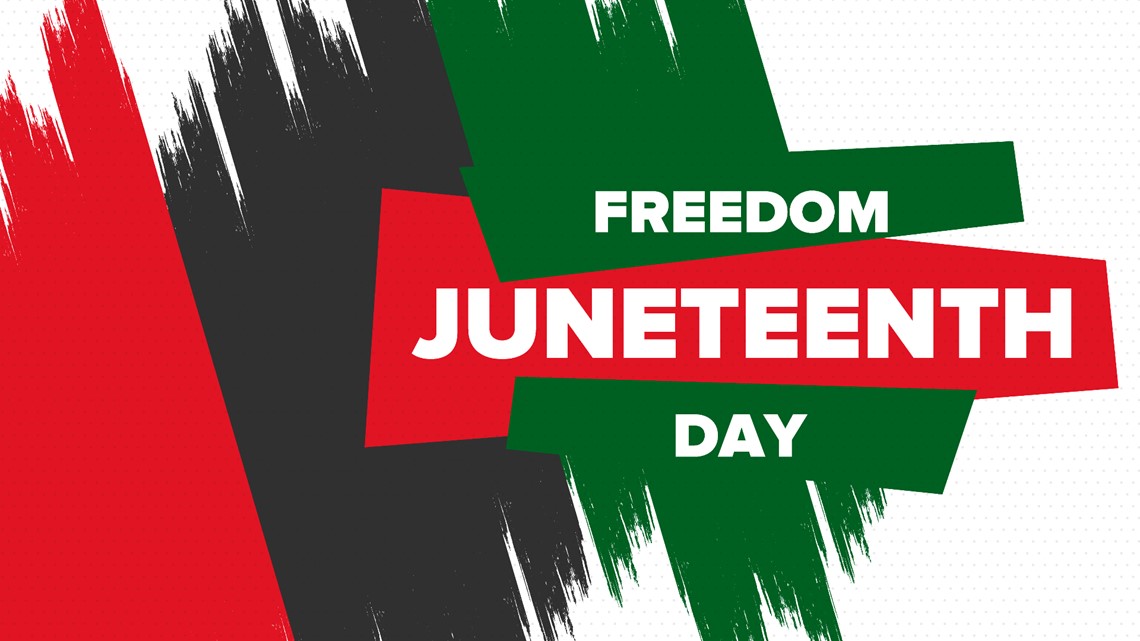 Events are planned across town to commemorate a monumental day in American history.
CLEVELAND – Tomorrow is Juneteenth – a celebration of the complete emancipation of slaves in the United States.
Cleveland goes all out with many events and activities planned to commemorate what is considered the oldest African American holiday. June 19 is not only a day of celebration, but a day of reflection on the triumph of freed slaves.
The biggest Juneteenth event in the area – the MetroHealth Cleveland FreedomFest – promises family fun, food, music, art, even fireworks – rain or shine.
"Tomorrow we want the whole community to come down and be a part of this happy gathering," said Tony Sias, President and CEO of Karamu House (who will be performing at the event). "So many people don't know what Juneteenth is and this is the opportunity for us to educate them.
"We have some new material, and then we do some Nina Simone songs and stuff like 'What's Goin' On '."
"This event is a celebration, but also a realization that the fight is not over," added Alan Nevel, director of diversity at MetroHealth Medical Center.
LIST: Juneteenth events and programs held in Northeast Ohio
In 1863 Abraham Lincoln abolished slavery in ALL states, but Texas held on to the practice for 2 more years, until June 19, 1865 – now known as "Juneteenth".
"We are looking at inclusion, diversity and equity," said Nevel. "This is really what it is."
"There are over 20 black vendors here, a whole host of youth activities," Sias said. "It's even a family place."
https://www.youtube.com/watch?v=EZYlyg4GD7w
Looking for a job? FreedomFest has that covered too.
"We will have a number of stands," Nevel told us. "We are going to have interviews. We have many vacancies. "
MetroHealth Cleveland FreedomFest is Saturday, June 19 from noon to 10 p.m., downtown on Mall C.
"Bring a friend," Nevel said. "Bring someone who doesn't know Juneteenth, because we can't assume that everyone, including people of color, knows the meaning of Juneteenth."
LEON BIBB REFLECTS: Cleveland Ready to Celebrate Juneteenth with Freedom Fest
JUNE EVENTS IN CLEVELAND:
On June 19 and 20, join the Djapo Cultural Arts Institute to celebrate culture, identity and Juneteenth with a two-day workshop held at Inlet Headquarters and a LIVE performance at the Rock & Roll Hall of Fame.
The Cleveland Freedom Fest is fast becoming an annual destination event in the heart of downtown Cleveland, ready to position our community as a national leader in the celebration of Juneteenth. Scheduled for Saturday, June 19 from 12:00 p.m. to 10:00 p.m. at Mall C in the heart of downtown Cleveland, the city-wide family celebration and commemoration of Juneteenth will include featured GRAMMY Award performances . award-winning performers Terri Lyne Carrington + Social Science with special guests Ms. Lisa Fischer and Maimouna "Mumu Fresh" Youssef; "Freedom on Juneteenth: Songs of Liberation," a performance on the main stage of Karamu House, the country's oldest black production theater; and a final fireworks display made possible by # CL3Alliance, the Cleveland Cavaliers, the Cleveland Browns and the Cleveland Indians.
Join Coventry Village and Safer Heights in supporting Black-owned businesses and artists at our Juneteenth celebration on June 19! Led by local black artists / organizers, this event is aimed at ALL of our neighborhood to celebrate freedom and the contributions of the Black community in Cleveland Heights and beyond.
Mx. Juneteenth: A Celebration of Black & Queer Liberation. A free event with a suggested donation of $ 5; $ 10 for non-black participants. No one will be refused for inability to pay.
Juneteenth: Party with a purpose! Hosted by: Sevyntteenth Foundation. The money raised during this event will be used directly to fund scholarships for our summer campers!
#JuneteenthOnBuckeye: The Buckeye Summer Soul Series in partnership with NAACP Cleveland Branch, Black Lives Matter Cleveland and New Era Cleveland, will host the 4th edition
#JuneteenthOnBuckeye, Saturday, June 19, 2021, 12:00 p.m. to 6:00 p.m. at Art & Soul Park located at 11802 Buckeye Rd, Cleveland, OH 44120. The celebration will include shows, giveaways, food, vendors and various support resources for residents.
Land Before Rhyme – Juneteenth Show. Location: Unitarian Universalist Congregation of Cleveland 2728 Lancashire Road Cleveland, OH 44106 "On this day we will honor our ancestors with our truths, stories, hopes, tragedies and triumphs by the word. Don't miss it "
Juneteenth Bicycle Ride Around the Circle: Celebrate Juneteenth 2021 with Juneteenth Freedom Rides for a relaxed, family-friendly bike ride in the University Circle area.
Juneteenth Unityfest: is a national Livestream event designed by Grammy-nominated African-American artist Robert Randolph, which will bring together people from all walks of life on a day of unity to commemorate and celebrate Juneteenth and black culture with performances musicals, inspirational remarks, films, comedy, storytelling and appearances by civic leaders and influencers. SATURDAY, JUNE 19, 2021 5 p.m. ET / 2 p.m. PT.
Interconnected Liberation: Art and Conversation on June 19 and World Refugee Day; People's Park 760-762 Elma Street Akron, Ohio 44302
Deep Roots and BLM Cleveland Juneteenth Art Show. Friday, 9:00 p.m. – 1:00 a.m. 3100 E 45th St # 320
Juneteenth Block Party & Vendor Fair – UnBAR Cafe, 12635 Larchmere Blvd, Cleveland OH, 44120 12 pm-4pm
Celebrate Juneteenth at the GlenVillage Pavilion – GlenVillage, 1400 E. 105th St, Cleveland OH, 44106 5:30 p.m. to 8:00 p.m. (June 18)
Juneteenth Cleveland Cultural Gardens Centennial Peace Plaza, Harrison Dillard Trail, Cleveland OH, 44108 11 am-3pm
Juneteenth Bluesfest Lakeview Park, 1800 W. Erie Ave, Lorain OH, 44052 3pm
Celebrate Cabaret Style Juneteenth 4600 Carnegie Ave, Cleveland OH, 44103 12 pm-4am