Michigan school nurses bear heavy burden with COVID-19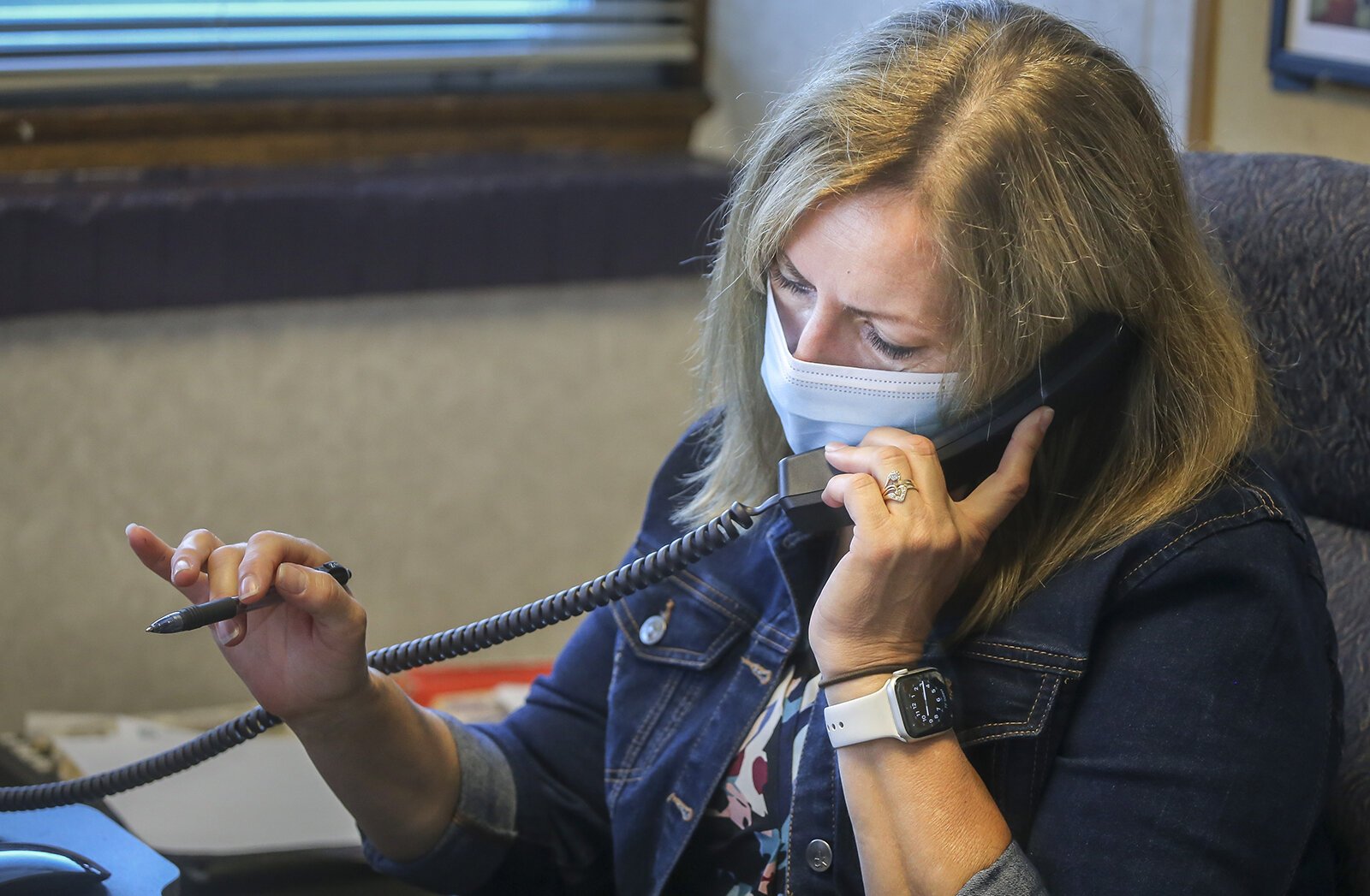 This article is part of Health, a series on how Michigan communities are rising to meet health challenges. It is made possible by funding from the
Michigan Health Endowment Fund.
While school nurses have long played a role in TV shows and movies, they haven't played a huge role in most Michigan schools. As recently as 2014, less than half of Michigan's school districts employed at least one school nurse – despite research showing that school nurses lower absenteeism, help identify children with mental health problems, and help students to chronic health problems like asthma.
And like all frontline workers, the job of school nurses changed dramatically in March 2020. When COVID-19 closed schools, they found themselves with even more work to do. In the face of a pandemic, state health services have been thrown into uncharted territory. In areas where school nurses already had boots on the ground, health officials turned to them to help them manage the crisis.

Rachel Van DenBrink.
"School nurses have just been stretched very finely, especially those of us in the schools. We are not able to do what we feel called to do and are turned into contact tracers, agents. quarantine and all that COVID stuff We're exhausted, "says Rachel VanDenBrink, nurse coordinator of Kent Intermediate School District Center Programs." You hear about healthcare workers in the hospital quitting their jobs. We are just as tired of following students, following families and living the political battles of masks or no masks. We do our best to maintain the physical and mental health of our students and school staff. "
COVID throws a curve ball
According to Hendrina Cupery, Holland Public School District nurse, Michigan school nurses continue to play a critical role in public health efforts to reopen schools and keep students in school. They support local health departments in COVID-19 preparedness and response, triage cases and outbreaks, and coordinate COVID-19 testing programs.

Hendrina Cupery.
"Because it was so new, health care didn't know how to navigate it, and it was putting a lot of pressure and stress on school nurses, more than anyone imagined," Cupery said. "Nobody planned this. It was nobody's fault."
VanDenBrink is also president, and Cupery, president-elect, of the Michigan School Nurses Association (MASN). They have advocated and created support mechanisms for school nurses throughout the pandemic.
"Health assessment has fallen on the back burner. We don't have the ability to promote health and work on the continuum of care and all the things school nurses love to do, "says VanDenBrink. "Instead, we're stuck hunting down the students, asking them who they were sitting by in the dining room so we can quarantine them. It's no fun."
When the COVID-19 vaccines came out and cases plummeted, Michigan school nurses let out a collective sigh of relief. Then the Delta variant arrived, infecting mostly the unvaccinated. However, those who have decided not to get the COVID-19 vaccine are not their main concern. Many of the students they care for, from toddlers to fifth grade, have not been allowed to receive the vaccine.
"We were hopeful this summer until the variant hit," said VanDenBrink. "We're always excited to see our kids in person, that's for sure, but it will be pretty much the same. When you add that layer of, 'Are they vaccinated or not? "It becomes detective work. That's a lot.

Anna Whitaker.
MASN's Emerging Issues and Advocacy Chair Anna Whitaker works as a Nurse Counselor for the Oakland County Health Division. She, too, has serious concerns about the dangers of COVID-19 for students this fall.
"People think COVID-19 is over. It's going to be tough and very reactionary this year, especially with the Delta variant. We see it every day in the news. It's here, and there are groundbreaking cases. [in vaccinated people]"Whitaker says." Some districts are starting school without implementing mitigation strategies like COVID masks and screenings. Even though other districts do, students mingle with activities and friends outside of their own district. "
Cindy Brummette, chair of the MASN legislative committee and school nurse at Grand Ledge public schools, agrees.
"[Add] that students aged 11 and under cannot be vaccinated [against COVID-19]"she said." This is the challenge if we are to provide a safe learning environment. Keeping the kids safe is going to be a challenge. "
While some state legislators strive to prevent schools from requiring masks and some local officials are looking to prevent their health services from promoting vaccinations Against COVID-19, school nurses may find themselves confronting parents and school districts as they work to protect their children from the virus.
"Wearing a mask is ensuring their safety. It is so difficult to get this message across as it has turned into such a huge political battle," VanDenBrink said. "How many children 12 and under who cannot even get vaccinated and who remain very vulnerable? By the nature of this virus, it will pick up those who are most vulnerable and we will put them back in the classroom. Two of my own kids are in this age group so it really touches me. "
From the good side
Michigan school nurses are anxiously awaiting when the pandemic truly becomes history. As it has done with many other issues, COVID-19 has shown school districts and heads of state how important school nurses are – not only to the mental and physical health of students, but to their students as well. school performance.
"We are thrilled to see the returning children in person. So many school districts have chosen to engage in in-person learning," said VanDenBrink. "Seeing the students and getting them back is a huge morale boost."
School nurses are also optimistic because the Michigan Department of Education budget recently $ 240 million more to hire nurses and school counselors. With more money in school budgets to cover the salaries of school nurses, more Michigan schools and students will have access to the benefits that a school nurse can bring.
"Now school administrators can't tell me they don't have the money," VanDenBrink says. "Schools without a nurse do not realize what they lack – not only physical health, but our children's mental health and safety as well."

Cindy Brummette.
During the pandemic, Brummette says school nurses "missed out" on educational opportunities in the classroom, ranging from teaching children how to take care of their teeth to mental health education.
"We all can't wait to start over, once this pandemic is behind us," she said.
A freelance writer and writer Estelle Slootmaker is happiest writing about social justice, wellness and the arts. She is the editor-in-chief of development news for Fast growing medium and L'Arbre Amigos chairs, Wyoming City Tree Commission. His greatest achievement is his five incredible adult children. You can contact Estelle at [email protected] or www.constellations.biz.
Photos of Cindy Brummette by Roxanne Frith. All other photos courtesy of the Subjects.