Missourian Sets New Record, Wins 51 Missouri Press Awards, Gold Cup | Local News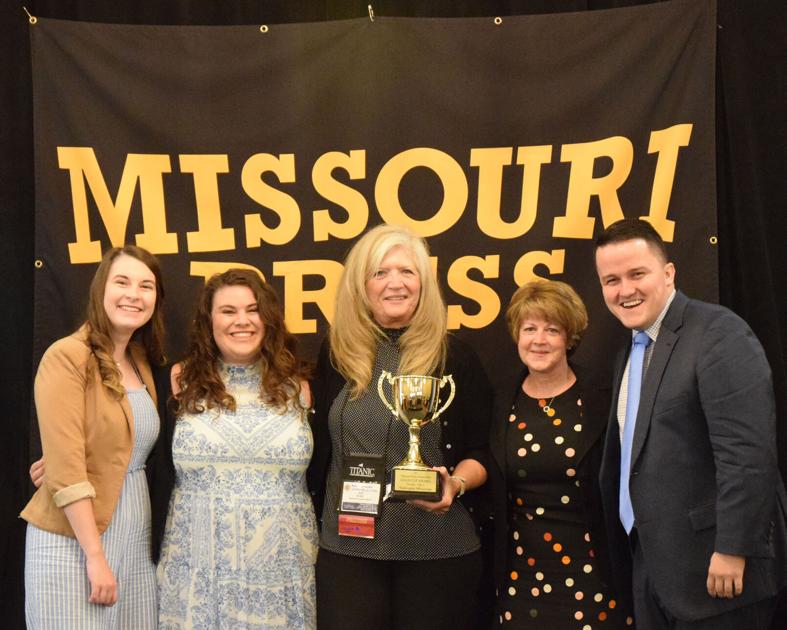 The Missourian won 51 awards on Saturday in the 2021 Missouri Press Association Better Newspaper competition, including the Gold Cup award given to news organizations with the most awards in its division.
The newspaper's previous record was set in 2017 when the newspaper won 47 awards in the statewide competition.
The Missourian competed in the weekly and bi-weekly newspaper division with a circulation of over 5,000 and won awards for written stories, visuals, multimedia, graphics, design and projects produced in 2020.
The awards, in addition to the prizes won by The Missourian in the National Newspaper Association competition, were announced Saturday at the Missouri Press Association's annual convention and awards luncheon held on Saturday. at Excelsior Springs this year.
The Missourian received 10 first-place awards, including awards for Best Headline Writing, Best News Photography, Best Editorial Pages, and Best Newspaper Coverage for Cameron Hill, Union Newspaper , pleading guilty to the stabbing death of his former girlfriend, Cassidy Hutchings, 23, Villa Ridge.
The work of Missourian editor-in-chief Laura Miserez, chronicling the travels of Neal Moore, a journalist who paddled across the United States and briefly stopped in New Haven and Washington, received the top spot. for the best outdoor story.
The judges said they "liked" the story, celebrating the "compelling photos" of Missourian photo editor Julia Hansen.
"Well written and interesting throughout. It made me want to load up my kayak and find a river," one judge wrote in his comments.
Miserez's coverage of St. Francis Borgia's unique moving room, "Cellular 'Cenes," also received first place for Best Educational Story. The multi-act play was not staged in the school auditorium, but rather in the art room, music room and cafeteria to account for social distancing.
Julie Murphy, freelance writer for The Missourian, received first place in the category for best story about rural life or agriculture. Her award-winning entry, Redeker's "kidneys" as champion of draft horses, tells the story of Michaela Redeker of Daredevil Drafts, in Catawissa, who travels the country demonstrating the Roman style of riding, standing on her horses.
The judges celebrated his report, writing in their comments that his story "was comprehensive, informative and a little different."
Missourian sports editor Bill Battle and sports reporter Arron Hustead were awarded first place in their division for best sports pages.
The judges of this year's competition applauded the Battle and Hustead reporting, saying the pages offered "full coverage, great photos and plenty for sports fans to explore."
The Missourian's editorial board, which includes publisher Patricia Miller and editor Ethan Colbert, received top spot for best editorial pages, with the judges praising the duo for their heavily worded editorials that use statistics to bolster the editorial position.
The Missourian's website, emissourian.com, also received top honors and was recognized as the best news website for the state's weekly newspapers.
Second place award
The Missourian received 14 second place awards, including best photo illustration for the newspaper's coverage of the wreath laying ceremony at the Missouri Veterans Home and Cemetery in St. James, best rural life coverage or l 'agriculture, and the best news or a special section, which was the wedding section of the newspaper.
Geoff Folsom, who is the editor of Union City of the Missourian and covers the Franklin County government, received second place for his story detailing how family members of the late Bernard Bieker reacted to the news that he was awarded a Congressional Gold Medal, recognizing the heroism that Bieker and other members of the Army's 307th Composite (Provisional) Unit during World War II are displayed. The unit, which was nicknamed after its commander, traveled over 1,000 miles through Japanese-held Burma and climbed parts of the Himalayan mountains.
Hansen was also awarded second place for Best News Photography. Judges said the award-winning photo showed "the tension" of the meeting in which Washington city officials discussed and ultimately rejected a mask warrant. Photo shows Washington resident Ben Brown being inaugurated from the podium after attempting to continue speaking despite exceeding the time limit for public comments.
Editor-in-chief Laura Miserez received two second-place awards, one in the Best Story About History category and Best Outdoors Story.
In their comments, the judges praised Miserez for taking readers on the adventure.
"(It) makes the heart beat faster from the first (paragraph). Miserez gave readers the best chance to experience what it was like to hike the Katy Trail, unless they cut it and pedal it themselves- same, "wrote a judge.
In the category best story about rural life or agriculture, the staff of the Missourian also received second place. The prize was for Mounting Memories, which featured Brittany Struckhoff, who is one of the few female taxidermists in Missouri.
Sports writer Bill Battle and sports journalist Arron Hustead have both been recognized for their sports reporting and photographs.
Battle received second place for Best Sports History for its coverage of the Class 5 District Volleyball Tournament.
Hustead received second place for his entry in "School Song," which shows members of the Washington high school football team celebrating last season's victory over Fort. Zumwalt South. The photo competed in the Best Sports Reporting category, where the judges praised Hustead for capturing a photo that shows "almost all of the players in this photo are clearly exploding with joy."
Hustead also received second place for his photo, which showed Midwest Rage hitter Jack Schantz hit with a pitch during an AA game against Pacific.
Third place award
The Missourian received 12 third place awards, including an award for best individual editorials. Missourian's Senior LifeTimes magazine received third place for best alternative publication.
The Missourian's design staff, which includes Sharon Pruessner, Brenda Klekamp, ​​Patty Brinker, Lori Obermark, Sarah Moore and Sharon Bargen, received third place for best overall design.
Pruessner also received third place for best information graphic, which accompanied a story detailing concerns from medical professionals that the COVID-19 pandemic could lead to a further drop in birth rates.
The Missourian press staff also received third place for their coverage of the Franklin County Mask Mandate announcement.
Other third-party awards for the newspaper included former business journalist Elena K. Cruz's coverage of the welding industry and the struggle of local employers to hire more welders.
The judges praised Miserez for showcasing Liz and Luke Cain's "labor of love".
Miserez also received third place in the Best History of Religion category for her profile on the life of Barb LaPlant, a well-known educator who has taught in elementary and parish schools in the area.
Sports editor Bill Battle won two third place awards for his sports photography, including one in Best Sports Report and Best Sports Photos.
Sports reporter Arron Hustead received third place for his article on the Washington High School softball team and for how a group of underclass students helped lead the team to a 16-game winning streak. , the longest in the history of the softball program.
Honorable mention
The Missourian received 14 Honorable Mention Awards in this year's contest, including an Honorable Mention for Best Photo Package, which featured dozens of archived photos of swimmers enjoying the original Agnes Nolting Aquatic Complex.
The Missourian's design staff received an honorable mention for best cover pages. Sarah Moore, one of the page's designers, also received an honorable mention for her work on an informational graphic, titled "Remembering This Eventful Year," which detailed the events of 2020.
Moore also received an honorable mention for designing a photo series, Craft Craze, which included photos from a painting party held at St. Ann's Parish Center.
Editor-in-chief Laura Miserez received an honorable mention for her coverage of the murder of Kristen Edwards.
Miserez also received an honorable mention in the best story about rural life or agriculture for her story of Opal Kamper, who is the matriarch of a family of five generations, including three children, eight grandchildren, 16 great – grandchildren and two great-great-great-grandchildren.
Miserez's story featuring the annual New Year's visits to seven Catholic parishes received an honorable mention in Best History on Religion.
Photo Editor Julia Hansen received three Honorable Mention Awards, including Best Photo Illustration, or Staged Photo, for a portrait of Tim Eversole standing outside his haunted house on Halloween; best shot, which showed a group of boaters sailing the Missouri River at sunset; and Best News Photo, which shows an unidentified Mercy Hospital Washington nurse attending to a patient in the hospital's COVID-19 ward.
Sports Writer Bill Battle received four Honorable Mention Awards, including one for Best Sports Columnist, Best Sports Report Photo and Best Sports Photo. He also received an honorable mention for the best sports report.