Our new editor: a star is coming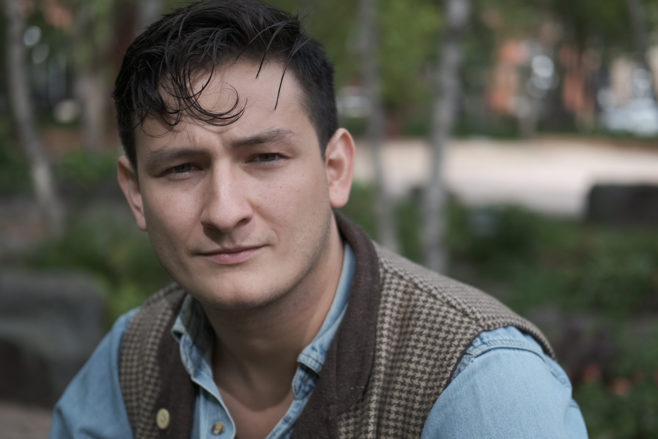 [ad_1]
by Jerry Rothstein
Casey Ek has been named the new editor of the Community journalist after having prevailed over a very competitive group of candidates. His first issue – August-September 2021 – shows that he has taken his first steps, and we hope to enjoy his curiosity, community orientation and excellent writing for many years to come.
Casey grew up in Mankato, where his family owned several businesses in which he worked. He cooked and served in their Mexican restaurant – his father is of Mayan descent and first came to the United States as a migrant worker. Casey also learned maintenance, cleaning and painting techniques at another family business – and that continues today as he now works for a local family owned property management business.
After graduating from Loyola Catholic School, Casey began studying communications and journalism at St. Thomas University. Some turmoil led him to be transferred to American University in Washington, DC, where he received his BA in Journalism, with a minor in Religious Studies. In search of something new, stimulating and experiential, he completed a semester abroad in India at the start of his senior year, where he hoped he would have a spiritual life opportunity "to hit me in the face" .
The rigorous program of a Buddhist monastery immersed him in meditation and mindfulness practices that he has continued to follow. He recalls: "The program, the discipline required, helped me open my eyes to who I was and how I lived my life. Classes in India have also brought unique opportunities. They had a private audience with the Dalai Lama at his Dharamshala monastery and met Morgan Freeman and appeared in his remarkable documentary "The Story of God". Casey's perspective on storytelling began to form more clearly from his experiences in India.
After graduating from American University, Casey embarked on another adventure, landing an internship in Nepal as a multimedia journalist, working with Online Khabar to help launch their service in English.
Returning to Mankato, Casey began working as a photographer for the Mankato Free Press, then as reporter-writer-photographer for the Belle Plaine Herald, a historic family newspaper founded in 1882. This experience confirmed to Casey that community outreach work was right for him.
In 2018, Casey and his fiancee Bridget Ireland moved to St. Paul. He continued to write and photograph freelance, while she continued her work as a pediatric occupational therapist. When he heard about the community journalist position, it struck him as something he could stand out from.
He likes the idea of ​​leaning on the Community journalistthe 50-year legacy of and challenges the idea that community newspapers are made for. He says, "Community newspapers are passionate not only about reporting, but also about improving the communities they serve.
He spoke of those early days with the newspaper: "So far I have often been humbled by the complexity of a neighborhood, the number of factors involved in each problem. We rely on the neighborhood to tell its own story with our help.
As we welcome Casey to our iconic neighborhood, let's also point out that the Mayan name "Ek" translates to star in English.
[ad_2]