Absolute Nature CBD 2021 Review: Pros, Cons, Best Products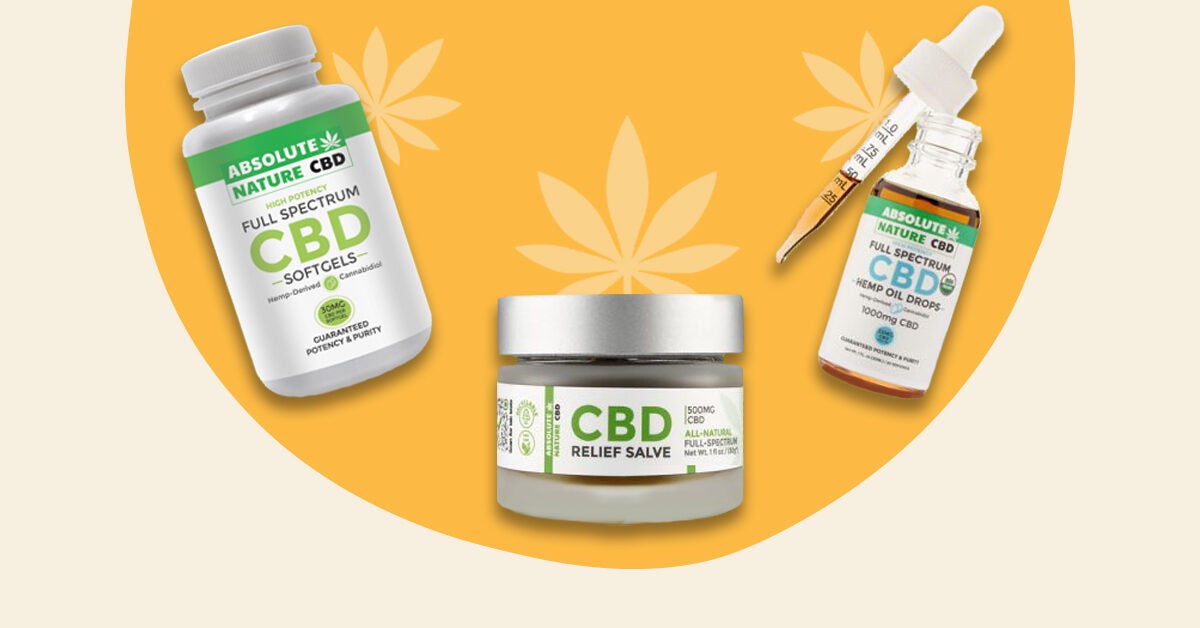 The cannabidiol (CBD) industry has been described as sort of the Wild West, and that's an apt comparison. A lack of regulation in a crowded market means that it is up to the consumer to separate good products and reputable companies from less good and less reputable.
Absolute Nature CBD is a reputable brand. They are committed to providing natural, environmentally friendly and accurately labeled CBD products.
Here is what else you need to know about Absolute Nature CBD, their practices and their products.
Absolute Nature CBD is privately held, which means there are no outside investors to please. The company's commitment to organic products and practices contributes to a positive reputation in the market.
The company was also not involved in any lawsuits and received no warning letters of the Food and Drug Administration (FDA) for unverified health claims.
Absolute Nature CBD does a good job of educating consumers about CBD in general, with dosage calculators, a guide to CBD laws, explanations of potential benefits, and much more readily available on the website.
Their products are made with non-GMO hemp grown in Colorado. Some of their products are certified organic by the United States Department of Agriculture (USDA) and OneCert. All are manufactured in a CGMP certified facility, which means the facility has been independently certified by a third party to be CGMP compliant.
While the company is based in Texas, Absolute Nature CBD works with carefully selected Colorado farmers to source hemp. Absolute Nature CBD is developing their product formulas and partnering with a private manufacturer for large-scale production.
Absolute Nature CBD uses carbon dioxide (CO2) to extract CBD from its hemp. This is one of two common extraction methods and preferred by some brands because it leaves no residual chemicals like solvent-based extraction.
Certificates of Analysis (COA) are readily available on the website and accessed from the menu and individual product pages. These lot-specific certificates of authenticity come from third-party ISO-17025 certified laboratories. The tests are comprehensive and describe:
power
cannabinoid and terpene profile
residual solvents
heavy metals
pesticides
microbes
However, we noticed missing information on some reports. For example, the The Muscle and Joint Relief and Recovery Roll-On is missing contaminant test results.
We also noticed that the potency varied by more than 10% between the COA and the label of some products. The High potency full spectrum CBD vegan fruit slices, which the label says contains 30 milligrams (mg) of CBD per gum, tested to be over 43 mg per gum on the COA.
Absolute Nature CBD offers a wide selection of products, including:
oils
capsules
gummy candies
topicals
hemp flower
hemp flower pre-rolls
pet products
All products are made with full spectrum CBD, which retains the natural terpenes, cannabinoids, and flavonoids of the hemp plant. Since they are full spectrum, they contain up to 0.3 percent tetrahydrocannabinol (THC).
Absolute Nature CBD's hemp flower is meant to be smoked, but it's important to know that hemp smoke contains many of the same toxins and carcinogens as tobacco smoke. It can endanger the health of your lungs. Instead of smoking, it's worth exploring other types of products, like gummies, oils, capsules, and topicals.
If you are considering using Absolute Nature CBD for your furry friend, talk to a vet first. There isn't a lot of research that shows CBD to be effective or safe for pets. Additionally, THC is toxic to dogs, and full spectrum products contain traces of THC. If your pet consumes more than expected, it could have negative effects.
Absolute Nature CBD also offers products with a high ratio of other cannabinoids, including cannabigerol (CBG). At present, studies on the effectiveness of this cannabinoid are limited.
Absolute Nature CBD products are priced at moderate to high, depending on the product and the potency level you choose.
However, the company does offer a number of product discounts and bundles, as well as aid programs, which drastically lower the price. They offer a 60 percent discount to:
American veterans
low income households
autistic people
people with epilepsy
people with long-term disability
first responders
Customer reviews on the Absolute Nature CBD website are generally positive, with mentions of high efficacy, value for money, and excellent customer service. On the other hand, there are no reviews on third-party sites like Trustpilot.
Absolute Nature CBD accepts returns on both opened and unopened products. Opened products can be returned within 14 days for a refund, and customers must pay for shipping costs. Unopened products can be returned within 30 days for a refund. In either case, customers should contact the company directly for next steps.
Full Spectrum CBD Hemp Oil Drops
Price: $$$
Type of CBD: full spectrum
Power of CBD: 1000 mg per 30 milliliter (mL) vial
CO : available on the product page
Absolute Nature CBD calls its 1000 mg Full Spectrum CBD Oil its best and most popular product. It's made from just two ingredients – CBD oil and Medium Chain Triglyceride (MCT) oil – and minimally processed with CO2. It is a well-reviewed product, with customers finding it helpful in improving sleep and reducing pain symptoms.
High Potency Full Spectrum CBD Capsules
Price: $$$
Type of CBD: full spectrum
Power of CBD: 30 mg per capsule
To count: 30 per container
CO : available on the product page
Absolute Nature CBD makes their full spectrum CBD oil available in a convenient capsule for easy, mess-free dosing. Each capsule contains approximately 30 mg of non-GMO Colorado hemp CBD.
There are only a few reviews, but customers are raving about the effectiveness of these capsules. They are also vegan and come in a childproof bottle.
CBD relief balm
Price: $$
Type of CBD: full spectrum
Power of CBD: 500 mg per 1 fluid ounce container
CO : on the product page
This CBD Balm combines 500mg of CBD with organic oils, arnica and camphor for a soothing formula that delivers localized relief where you need it most. Reviews are generally positive, but some customers note that it does not provide lasting relief and the formula itself is rather oily.
If you're new to CBD, product browsing can seem a bit overwhelming. The best way to focus on the right product for your needs is to think about the outcome you want.
For full body relief, a CBD oil, capsule, or gum to take orally are all options. For pain or tenderness in specific areas, such as elbows, knees, feet, neck, shoulders, or lower back, a topical CBD product is a better choice. Before you apply it widely, it's a good idea to do a small patch test first to make sure you don't have a skin reaction.
Absolute Nature CBD offers products with CBG in addition to CBD. While these products are lab tested and verified, keep in mind that research on this cannabinoid is still limited. However, animal studies suggest that CBG may be helpful in managing conditions such as:
CBD can be used in different ways:
Topical products are applied directly to the skin for immediate relief.
CBD oils are taken sublingually or under the tongue and can also be added to foods and drinks.
Capsules and gummy candies are taken orally.
Check the product packaging for instructions on proper consumption.
Dosage
Absolute Nature CBD, like many CBD companies, offers general dosage recommendations for its products. But since CBD is not regulated by the FDA in the same way as drugs or supplements, there is no official recommended dosage for CBD products as a whole.
Plus, not everyone reacts to CBD the same way. This is because factors such as body weight, individual body chemistry, disease being treated, and the amount of CBD in any given product all vary.
You can check out our dosage guide to find a good place to start. It may also be helpful to speak with a doctor.
Although CBD is considered safe for use by the World Health Organization, it should not be taken by people who are pregnant or breastfeeding. Children should also not use CBD unless a doctor has prescribed Epidiolex for them.
Be aware that some people may experience Side effects when using CBD. These are rare but can include:
tired
diarrhea
changes in appetite and weight
If you are taking oral CBD products, be sure to do so at the same time high fat meals. Meals high in fat can dramatically increase blood levels of CBD, which can increase the risk of side effects.
Before trying CBD, it's a good idea to talk to a doctor. This is especially important if you are currently on medication, as CBD can interact with certain medications that include a grapefruit warning.
Keep in mind that if you take full spectrum products, like those offered by Absolute Nature CBD, traces of THC could appear during a drug test.
In a crowded market filled with unreliable products, Absolute Nature CBD's approach to CBD is reassuring. The company is committed to making safe and effective CBD products available to almost everyone. Most COAs are complete, although there are a few with missing items or high margins of error regarding the actual amount of CBD.
If you do decide to try CBD, be sure to speak to a doctor first. If you want to give your pet CBD, talk to a vet.
Is CBD Legal? CBD products derived from hemp (with less than 0.3% THC) are legal at the federal level, but are still illegal under certain state laws. CBD products derived from marijuana are illegal at the federal level, but are legal under certain state laws. Check the laws of your state and those of any place you travel. Keep in mind that non-prescription CBD products are not approved by the FDA and may be labeled inaccurately.
Jessica Timmons has been working as a freelance writer since 2007, covering everything from pregnancy and parenthood to cannabis, chiropractic, stand-up paddleboarding, fitness, martial arts, home decor and more. Her work has been published in mindbodygreen, Pregnancy & Newborn, Modern Parents Messy Kids, and Coffee + Crumbs. See what she is doing now at jessicatimmons.com.