Whiskey Review: St. George Spirits Single Malt Whiskey, Lot 21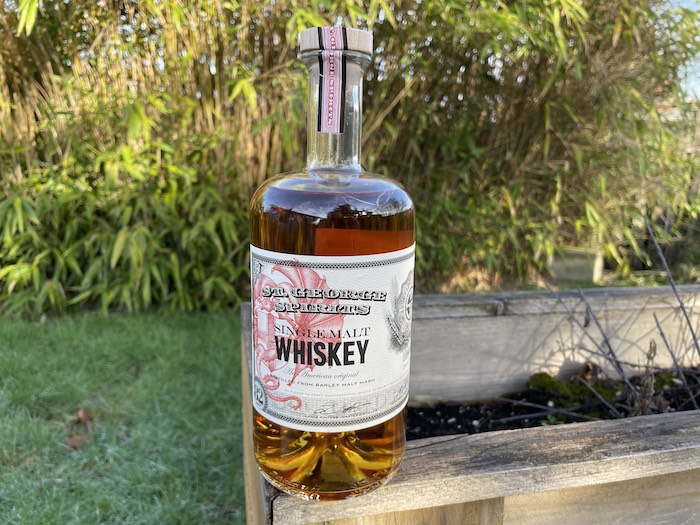 Editor's Note: This whiskey was provided to us as a review sample by St. George Spirits. This in no case, by our editorial policies, influenced the final outcome of this review. It should also be noted that by clicking the purchase link at the bottom of this review, our site receives a small sponsorship payment which helps support, but not influence, our editorial and other costs.
In Scotland, single malt whiskey must be 100% malted barley, aged in wooden casks for at least three years, and the product of a distillery. The United States, however, does not address what makes a single malt in the federal standards of identity for distilled spirits. St. George Spirits, considered "the first small American distillery since Prohibition", strives to stick as closely as possible to the authenticity of the single malt recipe from the United Kingdom.
St. George Spirits single malt whiskey is released annually, with each batch drawing on strong expressions from the distillery's whiskey library and a growing collection of casks. They call it a "liquid timeline of the distillery's commitment to American single malt." Batch 1 was released in 2000, and the evolution of the Single Malt Whiskey range has gained popularity in the whiskey community.
Head Distiller and Blender Dave Smith selected and blended 26 casks for this St. George Spirits Single Malt Whiskey, Lot 21. In a prepared statement, Smith says, "If you know our single malt whiskey, every lot should be to visit an old friend who has some new stories to share with you. Each barrel of single malt whiskey in our inventory is considered individually on its own merits and blending potential for this year's Lot. Although I haven't had the pleasure of tasting expressions from earlier batches so I can't compare, I enjoy the whiskey for its pleasant single malt taste.
The "American single malt" has become popular since St. George Spirits took up the challenge. In response, the TTB (Alcohol and Tobacco Tax and Trade Bureau) began moving towards creating a standard of identity for American Single Malt Whiskeys. The definition is still being worked on, but the American Single Malt Commission has proposed regulations that closely mirror the Scotch whiskey regulations.
No matter where the regulatory guidelines lie, St. George Spirits continues to dominate the US single malt category with their annual release, and this batch 21 is a delightful expression that will likely impress fans of the company as well as explorers.
Tasting Notes: St. George Spirits Single Malt Whisky, Lot 21
Vital Stats: Mash bill: 100% barley, includes various roast levels of two-row barley from Wisconsin (light malt, crystal malt, chocolate malt, patent dark malt) and German Bamberg malt (unroasted barley smoked over wood beech and alder). 26 casks from the St. George Whiskey Library. Blend of single barrels aged 4.5 to 10 years. ABV 43% (86 proof). MSRP $100.
Appearance: Soft walleye with slender legs.
Nose: A farm, mulch and hay scent, accompanied by the sweetness of nectarine and a nutty taste.
Palace: There is a stench at the front of the palace. Not an unpleasant taste, but it made me stop and think about how I felt about the taste. It has a hoppy flavor, reminiscent of entering a brewery. I also have notes of lychee and smoked hazelnut.
Takeaway meals
Summary
It was a very nice tasting. This is a reasonably priced single malt whiskey that has a fairly clear flavor profile. I actually enjoy the nose funk, which really adds something interesting to the taste without being sickeningly sweet.