From Water to "Gunpowder Days," Author Heather Hansman Examines the American West | Arts and events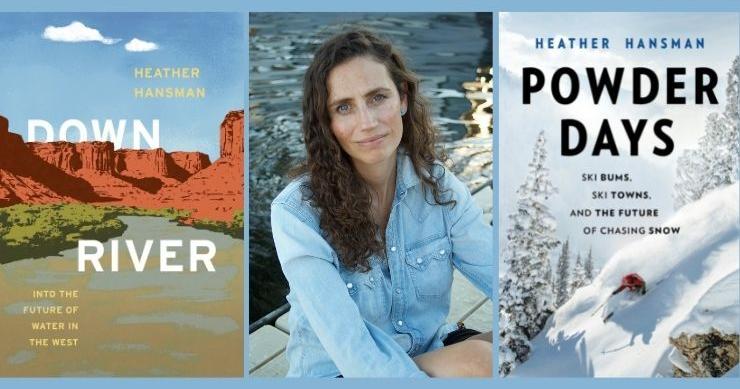 Heather Hansman feels more like herself when she explores the great outdoors. This allows her to spend time with many of her favorite people.
"I'm really invested in why we care about being on the outside and why it feels important," Hansman said. "I'm also very interested in the impact of humans on the scene."
She examines these themes in her books "Powder Days: Ski Bums, Ski Towns and the Future of Chasing Snow" and "Downriver: Into the Future of Water in the West".
On Thursday, March 3, Hansman will speak at the Community Library for the event "How Does Water Matter in the West?" Library Executive Director Jenny Emery-Davidson will lead the discussion.
"If I could assign a playlist to people living in the West right now, 'Downriver' and 'Powder Days' would both be on it," Emery-Davidson said. "These are adventurous books both about the rugged terrain they cover and the complex issues they explore, from water law to mental health issues in mountain towns."
This event is part of the Community Library's "Winter Readings" series. This year's book is "A River Runs Through It" by Norman MacLean, a short novel detailing fly fishing in Montana.
"This year's winter reading of 'A River Flows Through It' invites us to reflect on how rivers inform our communities and how communities impact our rivers," Emery-Davidson said. "[Hansman] describes flowing rivers and ski ridges in the West with gritty grace, and it delves into how we build community around complex issues, like water allocation.
On "A River Runs Through It", Hansman said, "To tell a story about a place and make that place feel alive and interesting is a hard thing to do."
Fresh out of college, she traveled to Avon, Colorado to work at Beaver Creek.
"I had this idea that I wanted to see mountains," Hansman said. "I haven't thought much beyond that."
This choice shaped his career and his relationships.
"Something as random and arbitrary as skiing can have so much power over people and shape their decisions," Hansman said.
She says the tradition of skiing exercises the same as Horace Greeley's famous 19th century proclamation, "Go West, young man." For Hansman, it taps into the primary needs of adventure and proving himself. Through her work, she deconstructs the myth of the ski bum.
"I think obsession is interesting on all levels," Hansman said.
For a decade, she worked at Ski Magazine as a freelance writer and editor.
"Being an editor makes me a much better writer," Hansman said. "People think writing is a thing in itself, but writing is so much about reading and researching and editing. You can't have one piece without the others.
Once she got the idea of ​​"Powder Days" a reality, she hit several ski resorts in 2019, from Sun Valley to Aspen.
"Hansman conveys a deep and joyful love of the West even as she is unwavering in her analysis of the realities of climate change, economic disparities and racial inequality," Emery-Davidson said.
Hansman also studied the housing crisis that prevails in many seaside resorts for his project. Over the past two years, the issues she's covered for the book have intensified, she said.
"A lot of these things that I knew were potential issues are even more serious than I thought they were," Hansman said.
One piece of the puzzle she hadn't anticipated was the link between mountain towns and mental health.
"I knew a lot of these places had pretty high suicide rates," Hansman said. "But before I started digging, I didn't really know why."
She ended the process with more questions than she started.
"It doesn't necessarily respond to anything, but keeps the conversation going," Hansman said. "It's interesting to have books in the world, because you never know how things will affect people."
Heading 'Downstream'
Much of Hansman's work examines how our relationship with natural water changes over time and asks, "What are we going to do in the future to make things better?" " she says.
In journalism school, her thesis was on the use of water. A self-proclaimed "raft head," she always felt like she couldn't really understand water management. She wanted to be able to explain how it impacts our lives.
For "Dendriver," she ventured into Colorado's Green River.
"You don't really know what you're getting into until you're there," Hansman said. "Part of the purpose of this trip was to try to understand myself and put things back together.
"I figured if I was someone who didn't understand it, there would probably be a lot of other questions from other people struggling with the same thing."
Prior to the trip, she viewed the fight for conservation as very black and white. During the trip, she learned that it was much more complex.
"There are no bad guys," Hansman said. Everyone is trying to do good… There really isn't an easy solution.
Next, she wants to work on a collection of essays about her relationship with nature. Currently, she is experiencing a phenomenon she calls "publishing blackout," excited to start another book.
She says that writing a long-form article requires a lot more focus than a simple essay or article.
"When you write a book, you're alone on an island for a lot longer," Hansman said. "There are so many other pieces that need to come together… You need to get rid of them and give yourself deadlines."
Hansman will also be part of the Sun Valley Writers Conference this summer.
To attend this event in person, you must register on the Community Library website at comlib.org. Proof of vaccination and a mask are required. The event will also be streamed live on Vimeo.