New book, 'Lessons from the Life of America's First Great Emancipator', reveals rare insights into slave owners' struggle for freedom and justice for all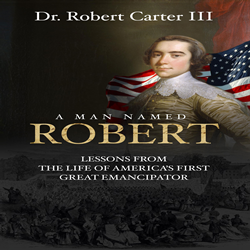 "Our forgotten founding father was a brilliant strategist who abhorred slavery," says Carter, "he used his wealth, influence and connections to drive change."

LAKE CHARLES, Louisiana (PRWEB)
June 27, 2022
"If you are a leader or a history buff, this book will confidently put you on the path to becoming a great leader, and the leadership lessons offered will help you expand your influence, strengthen your organization, and advance your career," says Dr. Rob Carter III, author of the book, A Man Named Robert: Lessons from the Life of America's First Great Emancipator. (source: themorningmind.com)
"My book is for people who want to learn more about how to become their best selves," says Carter, an expert in human performance improvement and leadership development.

Robert Carter III, our forgotten founding father, was a slave owner, but he argued that slavery was morally wrong and incompatible with Christian values. Ultimately, his tireless efforts and creative use of his resources resulted in progressive change, including the repeal of the old law prohibiting individual slave owners from freeing their slaves.

"In the beginning, the other Robert Carter III did more to abolish slavery than Presidents Washington, Jefferson, and Lincoln combined," Carter says, and "as a black American author, I'm very proud to share a name with this great man."
"I am thrilled to help others better understand this consideration for American democracy and freedom," says Carter
"Our forgotten founding father was a brilliant strategist who abhorred slavery," says Carter, "he used his wealth, influence and connections to drive change."
"Despite Carter's bold decision – or perhaps because of it – his name has all but disappeared from the records of American history," says Carter, "We can all learn from his life lessons and experiences to lead difficult transformations in our own lives."
"We all have vital things we need to work on to improve our communication, our relationships, and our day-to-day functioning," Carter says.
Carter delivers eleven fundamental leadership principles based on the remarkable life of our forgotten founding father, Robert "The Counselor" Carter III.
And in today's world, his wisdom and teachings are needed more than ever. A man named Robert chronicles the actions of Robert Carter III's life and identifies key leadership lessons he demonstrated, such as:

Lesson 1: Turn Tragedy into Triumph: Tragedy is part of the human experience. Learn some tips to help you put aside the sadness when you're feeling down.

Lesson #2: Build strong relationships. Ultimately, relationships are what give most people a strong motivation to enjoy life.

Lesson 3: Find your authentic self. Find out how to observe yourself like a fly on the wall and live in the moment.

Lesson 4: Lead from the front. Learning to lead from the front means demonstrating your leadership by going first. Leaders do the hard stuff first to show how it can be done.

Book available on Amazon: https://tinyurl.com/2p8uht8c . Start learning about our forgotten founding father and explore the unique lessons you can learn from his experiences and life as an American slave owner.
Dr. Robert Carter III is a Colonel in the United States Army and the bestselling author of The Morning Mind: Use Your Brain to Master Your Day and Supercharge Your Life. He obtained a doctorate in biomedical sciences (integrative physiology) and three master's degrees in public health, strategic studies and biological sciences. He also holds academic appointments at Los Angeles Pacific University (Azusa Pacific University System), University of Maryland, and the University of Texas Health Sciences Center, San Antonio. Dr. Carter completed his postdoctoral studies as an Alonso Yerby Fellow at the Harvard School of Public Health.

Share the article on social networks or by e-mail: