Summer beauty essentials for your skin, hair and body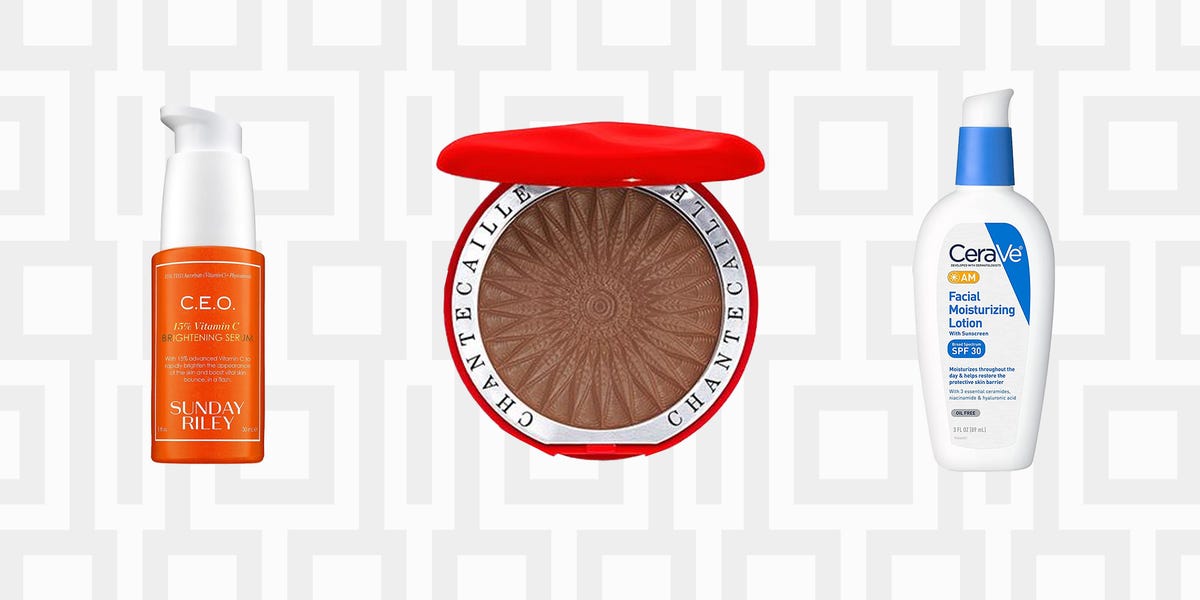 Once a week, we ask our editors to share the stories they love or covet, whether it's a new skincare product we're dying to try or a travel essential we can't do without. Consider "The Weekly Covet" your editor-approved wishlist for beauty, travel, fashion and everything in between.
Advertising – Continue Reading Below
1
CEO 15% Vitamin C Brightening Serum
"In my book, there's never a bad time for vitamin C, but in the summer, I'm even more attached to this anti-free radical and anti-dark spot potion." — Lauren Hubbard, Contributor
2
Ultra Sheer Dry Touch Sunscreen Lotion, SPF 55 Broad Spectrum
"Summer beauty means sunscreen, right? As someone who burns within a minute of coming into contact with the sun, I've used Neutrogena sunscreen all my life, and it doesn't never failed me once." — Emily Burack, News Writer
"If I had to sum up this magical anti-humidity spray in two words, it would be: summer lifesaver. Trust me, frizz and flyaways don't stand a chance against its no-hold formula." — Sophie Dweck, Associate Editor
4
Tulip Dew Vitamins and Mineral Sunscreen
"I love everything about this sunscreen, from its silky texture to the fact that it contains tulip extracts which add an antioxidant boost to its all-mineral SPF 50 formulation." — April Long, Beauty Director
5
Anthelios XL SPF 50 Sensitive lip sunscreen stick 0.15 oz
"Lips are especially vulnerable to sunburn, so it's good to keep kisses hydrated and protected with a good SPF lip balm. Personally, I prefer this one from La Roche-Posay." — Swarna Gowtham, Writing Intern
"In case you were wondering, the secret to a back-from-heaven glow is Chantecaille's bronzer. It gives my complexion such a perfect sun-kissed glow that I can't get enough of." — Sophie Dweck, Associate Editor
seven
Matte Revolution – Graceful Pink
"I love hot pink lips for summer, and my new favorite is this flattering coral shade from Charlotte Tilbury in their signature Matte Revolution formula." — Caroline Hallemann, Digital Director
8
CeraVe AM Moisturizing Face Lotion SPF 30
"The only sunscreen I use. Over the counter and extremely reliable, it will accompany me everywhere this summer." — Erik Maza, Executive Style Director
9
Silkamino Hydrating Mega Mask
"Between frizz-inducing humidity, harmful pool chlorine, and copious amounts of dry shampoo to combat a greasy look, the summer months can be tough on your hair. So I'm here to show some more d love to my locks this season, courtesy of a new hydrating mask from Drunk Elephant." — Caroline Hallemann, Digital Director
ten
Les Beiges Healthy Glow Bronzing Cream
"In the summer, my main goal is to make it look like I've just had a fabulous vacation and spent a lot of time in the sun, even when reality tells a different story. This Chanel bronzer is excellent for making even the prettiest of us look like they just jumped off the plane from Greece!" — Sarah Carbonaro, freelance fashion assistant
11
Monsieur Big Waterproof Mascara
"I take this Lancôme mascara everywhere I go, especially in the summer. Whether I'm spending all day at the beach or just sweating from the humidity, this waterproof mascara never lets me down." — Ana Osorno, Social Media Editor
12
Divine Skin: Rose 001 The Essence
"I honestly don't know how or why this seemingly simple rose elixir works so well, but trust me (and trust the magic of Pat McGrath): squeeze it into your pre-serum or moisturizer to skin and behold, the shiniest, rosiest skin you've ever seen." — April Long, Beauty Director
13
"VACATION" by vacation
"If summer has an official scent, this is it. It has your classic summery notes like coconut but also notes of pool water and swimsuit lycra. I haven't never worn and I haven't received a compliment." — Breana Crews, Freelance Fashion Assistant
14
Skin Caviar Luxe Eye Cream 0.68 oz.
"Now that you know the only sunscreen I use, I thought I'd share the only eye cream I use. Vital after a long flight, long night, long year. Trust me. The Prairie must be French forever." — Erik Maza, Executive Style Director
15
The Ultimate Soothing Cream
"To achieve glowing, dewy summer skin, it helps to be well hydrated. My favorite is Augustinus Bader's Ultimate Soothing Cream. I won't go to bed at night without it!" — MaryKate Boylan, Senior Fashion Editor
16
New! Absolute Radiance Serum
"Another essential part of my summer beauty routine? A really good serum. I was recently introduced to Luzern's new formula – and wow. The glow is truly out of this world. It's packed with plant-derived enzymes, of vitamin C and other good-for-skin ingredients that help exfoliate dead skin cells while promoting the most luminous complexion." — Sophie Dweck, Associate Editor
"I hate wearing foundation, but when I have formal events I love wearing What the Foundation because it gives my skin that punch I love without feeling like a mask. It's a tint, it's a hydrating balm, whichever way you look at it, it makes my skin look amazing. And it smells divine too."—Roxanne Adamiyatt, Senior Digital Editor
18
ReDimension Hydra Powder Blush
"Normally, I'm a cream blush girl, and almost exclusively cream blush. But when RMS' innovative new gel-to-powder blush hit my desk, I just had to try. I love the Sangria color for a long-lasting, subtly golden effect. – pops of color on the cheeks. This is going to be my go-to blush with a tan for sure."—Roxanne Adamiyatt, Senior Digital Editor
19
Backstage face and body concealer
"The heat and humidity of summer means that when it comes to concealer, I have to call in the heavy artillery. In this case, that means Dior Backstage Face & Body Concealer, which has full coverage but a natural finish.Best of all: it has the caffeine and is waterproof.This is essential both to banish the effects of fatigue on my skin and to ensure that I don't walk around with my face sinking into my neck in 90 degree weather. Whether it's for formal events or just my everyday makeup at the office, this is my go-to."—Roxanne Adamiyatt, Senior Digital Editor
This content is created and maintained by a third party, and uploaded to this page to help users provide their email addresses. You may be able to find more information about this and similar content on piano.io
Advertising – Continue Reading Below