New Owners of Historic Ypsi House Plan B&B and Culinary Community Center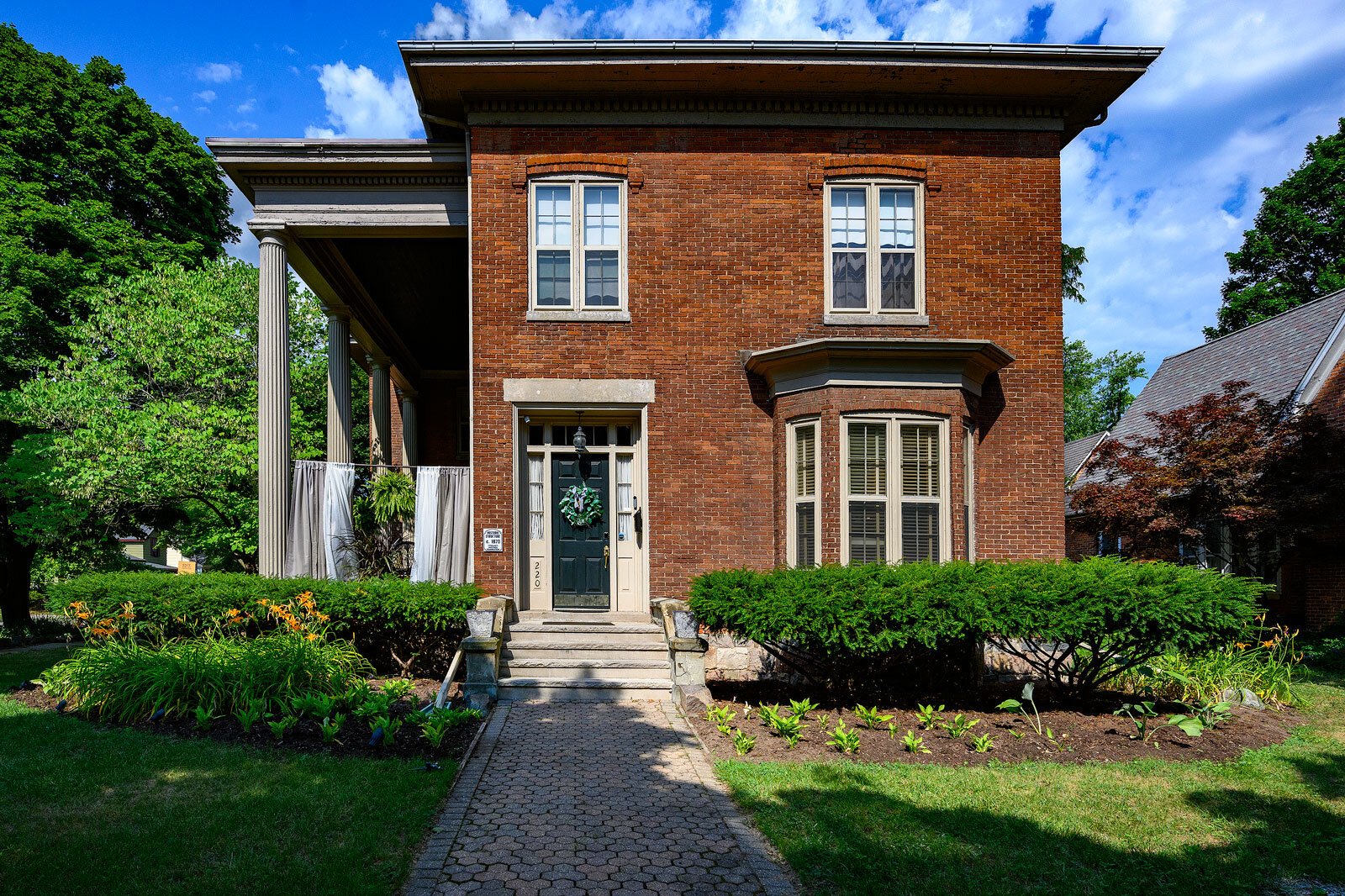 The owners of a new bed and breakfast called The Newton of Ypsilanti highlight the unique history of the structure while seeking to develop links with the Ypsilanti community of today.
Chef Allison Anastasio owns The chef of the last bite, a personal chef and a culinary education business. She had no plans to open a B&B when she and her partner, architect Charles "Chuck" Bultman, visited the house at 220 S. Huron St. in Ypsi. She had heard that the house would have been built in 1870, but that a tavern from the 1700s was located in the basement.
"Chuck is an architect who specializes in restoring historic buildings, so I knew he would want to see it," says Anastasio. "We had heard the story of the tavern, but we hadn't quite understood it."

Chef Allison Anastasio and Charles Bultman in the kitchen of Newton d'Ypsilanti.
She says they spent the tour "playing around" on the history of the structure with no intention of buying it, because someone had already made an offer on it. Bultman says he mentioned to the sellers that if he and Anastasio bought it, they planned to live there.
"And that's often a positive for a seller. Some sellers want to know that the home they loved will be loved again," Bultman says.
Luckily for Anastasio and Bultman, the other interested party's deal fell through.
"Ten days later they called and asked if we wanted to make an offer, and we decided we were ready," Anastasio explains. "In a sense, we weren't specifically looking for that house at the time, but in another sense, we were warned and ready to go. And then it kind of happened."

A sequel to Ypsilanti's Newton.
She says she had been looking for a commercial kitchen space for some time that she could put the name Last Bite Chef on.
"But it never really worked out. I couldn't find exactly what I wanted," she says. "Now I know why: because it was waiting for me."
The purchase of the house was finalized on December 6, 2021 and the first small private events took place in early January.
"Some stories may even be true"
Samuel Barnard, vice president of the Peninsula Paper Company, is known to have owned the building from 1870, but James Mann, a local historian and volunteer with the Ypsilanti Historical Society, says an 1865 map shows a structure already on the site. . Mann says that means the building may be even older, or that Barnard may have torn down a previous building to build it on this site.
"Then Charles Newton acquired it somewhere down the line. He was a friend of Edsel Ford and through that connection became the real estate agent for Ford Motor Co.," Mann said. "He was responsible for purchasing a large portion of the property which became Willow Run [Airport in Ypsilanti Township]."
Newtown probably gutted the original structure completely. He added a porch, as well as modern electrics and plumbing.
There are at least three versions of a story about how a 17th century tavern was deconstructed, moved and rebuilt in the basement of the Newton. The first is that it was a gift from Henry Ford.

Ypsilanti historian James Mann.
"That's the one I tend to believe," Mann says.
Other versions of the story say that the deconstructed tavern was supposed to be delivered to Greenfield Village in Dearborn, but was delivered and installed in Ypsilanti by mistake. A third version has Newton installing it himself.
That's typical of the story of that era, Mann says.
"There are all kinds of stories, and they get better over the years," Mann says. "Some of them may even be true."

The tavern in the Newton's basement.
It is well known, however, that Newton was a prolific collector of antiquities.
"He died in the late 1940s, and there was an antique auction that went on for a few days," Mann says. "It was the biggest antique auction in the history of Ypsilanti."
The house had many owners over the following decades. It became The Queen's Residence, a B&B, two changes of ownership before Anastasio and Bultman purchased the building.
The Newton's three suites are named after important historical families, including Barnard and Newton as well as the Gibson family, which were prominent in Ypsilanti in the 1960s, Anastasio explains.
A vision for the future
Anastasio's plans for The Newton set it apart from many other B&Bs. In addition to renting the three suites, small groups can rent the dining room for a rolling benefit dinner or the downstairs office for a small business meeting, with catering by The Last Bite Chef.
She also hopes to hold regular pop-up events and dinner clubs, and install a commercial kitchen on the property very soon. The commercial kitchen will be a place to prepare meals for overnight guests, but Anastasio hopes to use it for more than that.
"It will be a teaching kitchen, which I am passionate about, because I have a whole background and history in teaching, particularly in the culinary arts," she says.

Chief Allison Anastasio.
In addition to offering one-time themed classes, she hopes to host culinary boot camp weekends three or four times a year. Guests will stay over the weekend and benefit from four or five cooking class sessions, culminating in a meal that they will prepare and share together.
Both Anastasio and Bultman want to make sure their business fits into the neighborhood.
Bultman notes that some communities are preserving architecturally interesting historic buildings by converting them into law firms or similar businesses. While this physically maintains these properties, Bultman says buildings often feel like something is missing.

Charles Bultmann.
"What's missing is that the lights aren't on at night and no one is playing in the yard," Bultman says. "We have positioned ourselves a little differently. We want to live here. We want to contribute to street life at night and to our neighbors and [be out there] sitting on the porch."
Anastasio says she wants to respect the Newton's neighbors and the historic features of the surrounding neighborhood.
"We're not going to turn it into a big event center where the neighbors hate us," Anastasio says. "It's more about having a small, organized space that makes sense to the community."
More information about the Ypsilanti Newton can be found here.
Sarah Rigg is a freelance writer and editor in Ypsilanti Township and project manager of On the Ypsilanti field. She joined Concentrate as a news editor in early 2017 and occasionally contributes to other Broadcast Media Group editions. You can reach her at [email protected].
All pictures of Doug Combe.