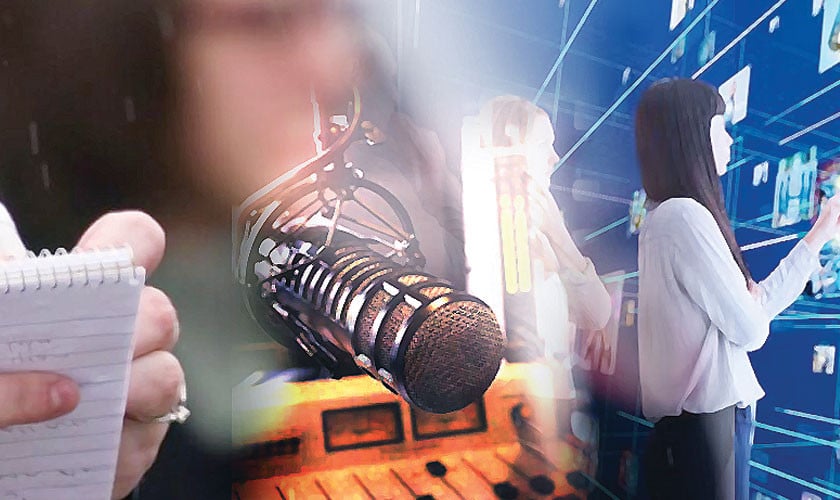 wpresage
Mona Zia – Radio Jockey
A radio jockey in the business for over 20 years now, Mona Zia was the first in the country to host an FM radio show in English. "Doing live shows when there were no cell phones and dealing with people who could say what they wanted was the challenge I took on. I decided I wasn't going to do taped shows but would do live shows," Mona recalls.
The RJ made a name for herself during her tenure, during which she managed to win several awards and many other achievements. "I think my biggest achievement is my Basant show. People not only from Pakistan but from different parts of the world came to Lahore to celebrate the festival. I even got a letter from someone in Sweden saying she wanted to have a girl like me after hearing the show. I keep this letter with me because it is very special," she enthuses.
She believes in equality and that women can do whatever they want. "Women need to trust their talent and know that they can make a difference."
"I always wanted to be a journalist but my mother was against me joining the media industry. I was teaching at Aitcheson College when my friend suggested I audition for a job and the rest is history. Now I am completing seven years in this field," says TV presenter Ayesha Jahanzeb. She is the first female presenter of a prime-time comedy show. "Being at the forefront of a comedy show was a gigantic challenge for me, maybe, because most of our jokes are sexist in nature," she says. "I have managed to survive in the media industry for the past six years by keeping my reputation intact. Standing strong and being moralistic is more important than any accomplishment to me," she adds.
Fariha Rashid, editor and CEO, started out as an assistant editor and fashion coordinator for a fashion magazine in 2003. She has now made a name for herself as the owner of her own print publication "Ink ' and a public relations firm 'Pitch Media Inc.' as well. was an entertainment magazine," she says.
"Starting a fashion magazine and PR agency all on my own was the challenge I took on.
I was able to successfully start and run any business I want.
Being someone who has been in the industry for a long time and has run her own business, Fariha believes that women need to be given due recognition. "I propose equal pay, equal opportunity, equal performance-based promotions and gender balance. I also offer nurseries for working mothers and paid maternity leave for all women," she says.
Founder of surhkiyan.pk, columnist Amina Hassan started her career as a sub-editor in 2015. She has covered multiple genres from politics to lifestyle. She then worked as a freelance writer for some time before joining the late Asma Jahangir as media manager. "Surkhiyan was a big challenge because in this digital world, people are more aware and constantly want to know. So providing an information platform where the voices of the masses can be channeled was a bit daunting, but we succeeded. she says.
She believes that the workplace should be a safe space for women. "Workplace harassment, unmarked commentary and gender disparity should be eliminated if you are serious about making the media job market more female-friendly."
Maheen Aziz is a Karachi-based writer whose areas of interest are art, culture, and entertainment. Beginning her career as a journalist, she worked in the editorial department of The News International and then joined a contemporary art magazine, Art Now Pakistan. "I worked with a reputable English-language media. I do a lifestyle segment as an editor," she says.
She holds the position of media coordinator at the International Watercolor Society and has written numerous articles for local publications in English.
A broadcast journalist, Alvina Sajid started her journey from a newspaper in 2015. She later moved to television where she found herself facing undue discrimination. "I did not back down despite the obstacles.
I had an opening after the resignation of a producer and I had six months to prove my worth in a high profile television channel", she expresses. She is now successfully working as a coordinator and editor in the creative department of a very prestigious television channel.
Saneela Jawad is a lifestyle journalist who has been in the industry for 6-7 years. "My journey in this profession has been bittersweet. From trying to network with people to setting boundaries, it's been an eye opener on so many different levels. For a newcomer, having his guidelines published was a great thing. I had the opportunity to interview some of the big names in the Pakistani entertainment industry," she says.
"Being a newcomer to the industry, the hardest thing for me was understanding the two-faced people around me, dealing with people intelligently and of course trying to navigate my way through the industry. without any 'waasta' – a term used to define undue reference to the Middle East", she underlines.
She believes in creating a safe space for women where they not only feel confident to work but don't have to worry about being harassed. "Better pay scales should be provided for women," she says.
"After struggling for a long time as a journalist, I was lucky enough to become a news presenter in an English-language TV channel," says Hira Mustafa, a correspondent for a renowned TV channel. "Getting my talent recognized in the media industry has been the biggest challenge I've ever faced. I received a certificate of appreciation from the Embassy of Azerbaijan for playing my part in building stronger ties with the help of the media between Azerbaijan and Pakistan," she explains.
Young and rising in the field, Hira has a strong opinion on the struggles of women. "The media market is extremely fluid and there are so many challenges that women have to face from time to time. There should be no harassment at work," she said.
Tackling and covering the issues of transgender people and having worked on treatable transgender people is what sets journalist and academic Dr. Rabia Noor apart. "My career in journalism started 17 years ago. I covered many political movements. I covered taboo subjects on which I received the 'Jamal Khashoggi' award", she informs.
Having worked across a broad spectrum and being a seasoned journalist, she believes the struggles faced by women in the field are far more different and difficult. "Female journalists should not be worn by the media as their face. Women journalists should not be confined to typical roles or to print media only. They should opt for investigative reporting in the electronic media," she stresses.
"I decided I wanted to be a writer very early in my life. So when people read my articles and blogs, they tell me not to stop writing. That's when I know I've made it" , says Sana Talat Gilani, freelance journalist.
She is known for writing in different genres as well as different mediums such as news and podcasts. "In addition to writing for the media, I research and make documentaries on gender-related themes," she shares.
She takes plagiarism very seriously and being part of a media channel, it is not something that should be overlooked. "Plagiarism is the biggest challenge. You must be 100% original by writing news that is reported simultaneously through multiple channels. Even misspelling a name can embarrass you," she points out.
The media has become a more conductive place for women over time, but many other issues are overlooked in this space. "The relationship between employee and boss should not be allowed when you work in the same company. I have seen a lot of things happen. It really compromises fairness and justice for other employees. This employee who is in a relationship gets more benefits than others. I speak from first-hand experience," she divulges.
Farheen Chaudhry is an established screenwriter from Pakistan for 30 years. She has gained national and international fame through her work. His TV series "Paani Pe Naam" also earned him a nomination. "As a woman, evolving with morality and keeping directors was a difficult task. I have never bowed in the face of adversity. Every step I've taken is like a baby and I enjoy every task, big or small," she says.
She has won over 25 awards for her literary and cultural contributions.
Dr. Hassan Shehzad teaches gender mainstreaming at the IIUI. He can be contacted at [email protected]