Ruby-throated Hummingbirds and Late Summer Feeding | Lifestyles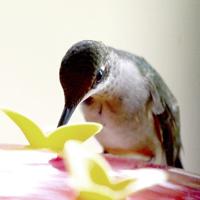 In this summer time, many people wonder when to stop feeding hummingbirds.
And the answer is not simple.
Sometimes the hummingbirds can be gone by mid-September, but a few years ago we had a few until October.
I plan to keep mine until I don't see any for a few weeks.
The National Audubon Society reports that people can leave feeders outside as long as they have hummingbirds around.
And don't worry if the hummingbirds stay longer than they should just because there's a feeder available, they know when to leave and will when it's time.
According to audubon.org, "You can even continue to supply the feeder after your hummingbirds have disappeared – late migrants or out-of-range species may appear in early winter. Follow guidelines for keeping feeders clean, even if the nectar remains intact.Always discard any unused nectar in the feeder when you take it apart for cleaning.
Also, not all hummingbirds leave at the same time. While the birds you've been feeding all summer may be on the Texas coast right now, preparing for the long flight across the Gulf of Mexico, you may have new visitors who spent the summer further north, like in Canada, huh.
Also, the males usually depart first, followed by the females, then the juveniles.
homemade nectar
The best way to make hummingbird nectar by mixing refined white sugar and water. It's one part sugar to four parts water during the summer. And only refined white sugar should be used.
I often mix one cup of sugar with four cups of water that has been boiled, then cooled, then stored in the refrigerator. However, it is recommended to make sure the nectar is at room temperature before placing it outside. Never too cold nor too hot.
Also, a one to three part mix can be created at this time of year before the bird migration. It helps to make them bigger. I currently feed a mixture of one cup sugar to three cups water.
It is not necessary to add red food coloring to homemade nectar. Hummingbirds will be attracted to the colors of the feeders themselves.
It is strongly recommended not to let the nectar sit outside until it becomes poisonous.
I change mine every 48 hours or so during the hottest part of summer and every three or four days or so when temperatures are cooler. Additionally, I clean each container each time it is refilled to ensure that no black mold forms.
The National Audubon Society recommends cleaning only with warm tap water or using a weak vinegar solution. Avoid using dish soaps, as they can leave harmful residue in the feeder.
And some people think that nectar feeders should not be placed where the sun will shine directly on them. As a precaution, I keep mine in the shade.
Ruby-throated Hummingbird
Appearance
Males and females are sexually dimorphic (visibly different), with males being slightly smaller and having slightly smaller beaks.
Ruby-throated hummingbirds are mostly emerald and white in color (pictures), with males having red throats. In fact, the throat feathers of the male are not really red. The scale-like feathers are iridescent, so they appear red in the right light. If you look at a male from the side or in low light, the throat feathers sometimes appear dull black.
Males have pointed tail feathers and gray breast feathers.
Females are about 3 inches in length and have a whitish throat and white-tipped outer rounded tail feathers – the three outer feathers on each side of the tail.
Adult males lack the white tips on the tail feathers. However, immature rubythroats – both male and female – resemble adult females and even have white-tipped tail feathers. However, immatures often have heavier throat markings than adult females.
Additionally, some immature males may have one or more iridescent patches on their necks in the fall.
Interval
Although there are hundreds of species of Alaskan hummingbirds in Chile, only about 13 reside in the United States. And the ruby-throated hummingbird is the only one that breeds in the eastern United States.
Ruby-throated Hummingbirds can be found in the eastern three-quarters of Oklahoma from about early April through September/October. Their range extends roughly from central Texas to northern Canada and all of the eastern United States.
Rubythroats winter mainly in southern Mexico and Central America.
Many ruby-throated hummingbirds travel 600 miles across the open waters of the Gulf of Mexico on a 24-hour nonstop flight.
Birds will double their weight before migration. With each weighing about the same as two cents, they will lose half their body weight flying over the Gulf.
While it was once believed that all ruby ​​throats crossed the ocean during migration, it was later discovered that at least some circled the gulf.
Food
Ruby throats will drink nectar from any flower, but they prefer red tubular flowers. They also eat certain insects, including mosquitoes, fruit flies, gnats, and small bees. Small spiders too.
When regular food is scarce, they also consume tree sap.
nesting
Males usually show up in breeding areas about a week before females. After a short courtship, the males and females mate, then separate.
According to the Cornell Lab of Ornithology, a female will then spend about a week to 10 days building the nest. She will lay one to three eggs,
Incubation lasts about two weeks. The young are adults when they fledge about 18 days after hatching. The young are fed regurgitated insects, as the nectar lacks the protein needed for their growth. They will weigh much more than their mother when they fledge. Rubythroats raise one to three broods during a breeding season.
Also, baby hummingbirds do not visit feeders. Often people who think they've seen a baby hummingbird at flowers or even feeders may have seen a moth instead. Or maybe a sphinx moth. The two visit the flowers during the day
and their wing beats are very fast, just like hummingbirds.
Tips
● If you've ever seen a hummingbird exhibit strange behavior on cold mornings, those birds may be in torpor. Torpor is a measure of survival, a very deep sleep that lowers the bird's temperature and slows its metabolism, heart rate, and breathing. Sluggish birds are often found asleep at feeders, and even hanging upside down from feeders and tree branches.
● Hummingbirds can fly not only forwards, but also backwards, side to side, up, down, sideways and upside down, and they can even hover on the spot. Also, they can stop in the air in no time.
●Hummingbirds have the largest brain relative to body size of any bird. Also, they have the largest heart per body size of any animal.
●A hummingbird's tongue is like a straw, with which it can draw a lot of nectar. Which is a good thing, because they need to consume twice their body weight in nectar every day!
● The Ruby-throated Hummingbird's wings beat about 53 times per second. Per second!
●A hummingbird's heart can beat more than 1,000 times in a single minute. When they sleep, their heart rates are greatly reduced, ranging from 50 to 180 beats per minute.
● At rest, such as when perched on a tree branch, a ruby-throat will take three to four breaths per second.
(Editor's Note: Randy Mitchell is a freelance writer and photographer. He has been an avid birder, nature enthusiast, and photographer for over 40 years. Contact him at [email protected] .)