The colorful landscapes of artist Karmimadeebora McMillan are more than meets the eye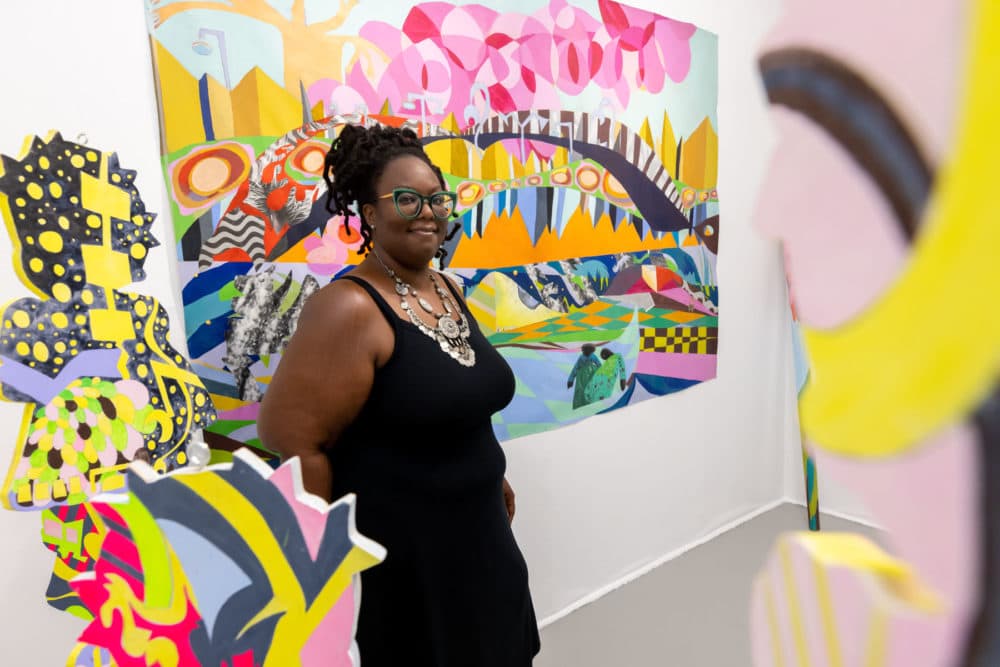 Regina McMillan knew her daughter would be an artist. So she chose a name that people would remember: Karmimadeebora. And his mother was right. McMillan, now 45, has worked professionally as an artist for 25 years. Currently, she is the first to show her work at the Boston Center for the Arts' (BCA) new Project room. Her work focuses on black material culture and began when her friend gave her a caricature of the Old South: a pickaninny. For many years she didn't know what to do with it, but now the doll is the philosophy of much of her work.
At the BCA, the doll, which McMillan named Miss Merri Mack, is painted in colorful, almost psychedelic settings. She walks on luminous paths of green and yellow, surrounded by shapes. "I like to think of my work as 'Alice in Wonderland' meets Sun Ra's 'Space Is The Place'," McMillan explained. Looking at McMillan's work on canvas is like looking at clouds. If you look long enough, the shapes can be anything: skyscrapers, mountains, wisps of smoke, and seaweed. But it's a trick. His work is reminiscent of the art of assemblage, works of assembled found objects. If you get caught up in all the shapes and colors, you might miss what McMillan is really saying. You have to look closely to see the coded messages, many of which are a reframing of black history.
McMillan grew up in North Carolina and was used to seeing racist objects grow. For many years across the South, objects such as lawn jockeys and pickaninny ceramics were used as kitschy lawn ornaments. "When you saw something like that, you were really on high alert because it not only means they're cool with it, but their neighbors are too," McMillan said. "You weren't welcome in this neighborhood." So when McMillan's colleague Erin Sotak was approached while working in a gallery by a patron who said, "I found this thing in my grandmother's garage. I wanted to burn it," and offered to bring it, McMillan was unsure what to think.
She had only seen from afar objects like the one the patroness had given her: dolls and ceramics with puffy faces, exaggerated eyes and big mouths used to mock and intimidate. When Erin Sotak gave her the doll, she decided to keep it. She didn't quite know what to think about it. But one night, after dreaming about the doll, she realized there was nothing wrong with it. The cartoon has a negative connotation, "But actually," thought McMillan, "she was kinda cute." She loved the doll's hair, beautiful dark skin, and fun dress. Objects have no intrinsic meaning, rather they are assigned. The realization of the artist made him want to do research.
Much of McMillan's work is based on the study of archives, which she began to do early in her career at the McColl Center, an arts organization in Charlotte, North Carolina. Along with other artists in residence, she would go to a junkyard on the outskirts of town. "The owner had all the black memorabilia, like barrels of things like the Mammie salt and pepper shakers," she said. McMillan would take them back to the studio and draw them. Since graduating from the School of the Tufts Museum of Fine Arts, she has pulled from old books and found artifacts to inform her work, assess and explore race in our country. If you look closely at his larger installations, you will see coloring book characters from the "Black Panther Coloring Book", created by COINTELPRO, an FBI project, to scare the American public. A book once filled with images illustrating lies and offensive images becomes emphatic in this new context. "I'm taking what's been used against us and saying it from our perspective," McMillan said.
The artist's research even gave rise to the name of the doll depicted in several of his paintings, Mrs. Merri Mack, after learning the theory that the famous rhyme originated on the plantations and was sung by child slaves. The tune, which goes like this: "Miss Mary Mack, Mack, Mack, all dressed in black", is usually assumed to be about a woman. However, it is likely that it was a Union ship that fought against Confederate forces during the Civil War. The silver buttons you hear in the song are actually the rivets on the boat. Appropriately, the first project McMillan undertook inspired by the doll was "Ms. Merri Mack's First Voyage."
"Essentially she is me, I am her and we are together on this crazy artistic journey – as we try to break down boundaries and stereotypes, we also remember."

Karmimadeebora McMillan
The artist explained, "Essentially, she's me, I'm her, and we're on this crazy artistic journey together — as we try to break down boundaries and stereotypes, we're also remembering." The front of Mrs. Merri Mack's recreations on wooden cutouts have doll features, but various scenes dance across their backs. "Sometimes this image talks about the everyday life of black Americans. Sometimes it's just abstract. Sometimes it's about empowering young black girls, which is my ultimate goal in having it anyway," McMillan said. The artist wants to change the stereotype of the doll, take back its power and reclaim it. "She's just a pickaninny if that's what you call her, and she's just a pickaninny if that's what you claim."
The artist also paints rag dolls, a popular folk art form in southern black cultures. Her friends and family send them to her from garage sales and thrift stores, which she transforms into paintings. Sometimes they watch over Mrs. Merri Mack, and other times they are painted in their own colorful landscapes with their heads bowed.
Over the years, McMillan heard that the bright colors in his work were a lure. "People are so hypnotized by color. What they don't realize is that it's about the color," she said. These are also the first judgments. The feeling you get when you see McMillan's work is not always the same as the one you walk away with.
---
Karmimadeebora McMillan's work is exhibited at Project room at the BCA until September 10 and at MassArt x SoWa Gallery until September 25. She worked on a wallwhich will be unveiled at Roxbury on September 12.