PREMIERE: The Art Crimes Band Releases Dynamic Video For New Single "Neon Skyline"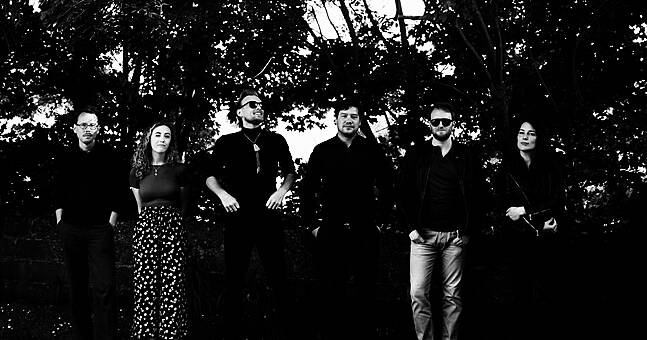 Hot Press presents the dazzling new video for The Art Crimes Band track 'Neon Skyline'.
The Art Crimes Band have released their stunning new single, 'Neon Skyline' – their second release of 2022. Accompanying that comes a quirky and somewhat emotional music video, which Hot Press is delighted to premiere below.
The band from Cork embrace an 80s sound with 'Neon Skyline', a jazzy yet danceable track built with sensational saxophone, dreamy vocals, uptempo drums and indescribably beautiful depth added by Tim O'Leary on bass.
The accompanying music video is just as delightfully chaotic. Go from clips of a smoky club to clips of the band and a couple's story; the video shows a lot of different angles, but focusing on love as an important aspect – "I need to feel something tonight, like love."
Speaking of the new video for 'Neon Skyline', guitarist Stephen Kirby said: "It's about craving contact, positive or negative, just human interaction. It's about lost love, crazy nights, hard days, romance and pain. Musically, it's about blending solid and static patterns with fluidity and movement to create a complementary soundscape for the story."
According to the band, the new single was inspired by the novel "Bright Lights, Big City" by American author Jay McInerney. The track was conceived by guitarist Stephen Kirby during an overnight commute between Los Angeles and Las Vegas.
"As the lights of Las Vegas loomed on the horizon from the freeway, Stephen began to think of a driving drum beat and a guitar riff. It would become the genesis of 'Neon Skyline.' later, the track would be completed with the rest of the band with lyrics based on Jay McInerney's novel; a story about a character's time spent in the fast lane of New York City in the mid-1980s, and notably getting escaping," a press release read.
In keeping with the song's 80s theme, the track's sound and production is akin to 80s Bruce Springsteen, Tom Petty & The HeartBreakers, John Mayer and Bon Iver. 'Neon Skyline' was recorded and produced by The Art Crimes Band at their FlashPoint Creative Studios in Cork City, Ireland and mastered by engineer Andy Walter (David Bowie, Rush, Simple Minds) at Abbey Road Studios in London.
Composed of Gary Baus (alto saxophone), Stephen Kirby (guitars), Niall Dennehy (drums and percussion), Grace McMahon (vocals), Tim O'Leary (bass) and new member Katie O'Donnell (piano and keyboards), this group have solidified a strong foundation in the R&B/Soul sound where they seem to call home. Unlike their first album Radio on the SUGO Music label released in 2015, the band are now comfortable in their sound – just in time to work on their next LP.
'Neon Skyline' is available to stream on all platforms – check out their brand new music video for the track below.
Upcoming live shows:
October 29: Guinness Cork Jazz Festival – The Oliver Plunkett
October 29: Guinness Cork Jazz Festival – The Woodford
October 30: Guinness Cork Jazz Festival – The Oliver Plunkett