Connecting generations through stories | The star of the day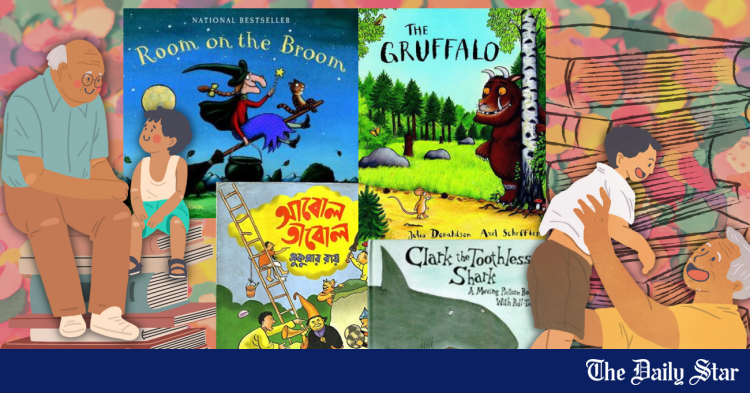 Is there a word for that moment when you open a book, and someone's distinct smell or maybe the memory of it hits you like a sucker in your stomach? Nostalgia, unmistakable; you, not prepared. Is there a word? There should be. Although today may not be the day for me to submit ideas to Websters for consideration, (although I highly recommend 2020s The dictionary of lost words by Pip Williams if you want a solid read on the world of words), I thought I'd share this moment a bit.
While diving into what is perhaps my favorite pastime, which is spring cleaning my library, I came across an old copy of equal music (1999) by Vikram Seth, which I bought on the streets of Kolkata about 18 years ago. This copy appealed to me because I remember buying two copies, one for myself and one for Dadabhai, my paternal grandfather, who was perhaps the greatest bibliophile I know. Years after his passing, I still yearn to have a library as beautiful and pristine as his.
For all the latest news, follow the Daily Star's Google News channel.
Excuse the cliche, but the smell of those aging, somewhat neglected, yellowed pages took me back to a precise moment in time when Dadabhai and I sat discussing this very book, our individual copies in tow. Individual, because my brilliant but slightly eccentric grandfather didn't believe in letting mere mortals with their dirty fingers and questionable standards of hygiene borrow anything from his precious collection. I remember loving how poignant the narration was and Dadabhai, not one to water down thoughts, completely dismissed it as illogical, boring and devoid of real feelings. Years later, 65 pages later, I wish I could call Dadabhai and let him know he was right; it's really not made up to the same magnitude as Seth's other works. How he would like that; partly to hear his grandson's voice on the other side, but mostly to be right.
It made me think about the power of stories and books and how they create the most infallible and lasting bond between generations. Some of my fondest memories of my chaotically loving childhood are of my Nanuji rounding up all our cousins, a big bowl of rice and curry in hand ready to be scooped up and stuffed into our voracious mouths, while reading Sukumar Ray. Hajabarala (1921) and Abol Tabol (1923). Books that were born before her and that were undoubtedly transmitted by the readings of her own parents.
And when we exhausted every page of every book she had in her hand, the master of all storytellers emerged – Nanuji herself. I remember the colorful characters (some even recurring and with their own spinoffs), their exuberance, each with their own conflicts, and the dramatic climax. Each story more incredible than its predecessor. I know from Nanuji's brilliant improvisations and storytelling prowess, that my love for stories is deeply genetic.
Now that I'm the mother of a two-year-old whose love for books perhaps exceeds my own, I find myself telling him stories I grew up with. The other day, while I was getting him ready for his nursery, I remembered the whimsical story of the handkerchief that turns into an adventurous cat from Ray's Hajabarala and I burst out laughing to myself.
My mother-in-law, whose talent as an archivist deserves to be celebrated in the best museums, sent us some of my partner's favorite books when he was a child. The same copies he used to read, in perfect condition! It was so amazing to watch my son practically jump on some of these copies and devour them all the same. Let's just say that the copy of Clark the Toothless Shark by Corinne Mellor (1996) is no longer in mint condition. Sorry mil.
My heart went to a messy mush when I saw my father holding my son and reading him a plethora of Julia Donaldson books. Donaldson's most notable works and my child's favorites include The Gruffalo (1999), Room on the broom (2001), Zog (2010); books that belong to a generation much later than my father's or mine. Yet I still see joy and fascination in my father's eyes as he tells those timeless stories of friendly dragons, witches, and monsters.
This is the power of stories and books; there is no upper medium that binds the generation as tightly as it does. As Coelho so aptly put it, "The power of storytelling is exactly this: filling in the gaps where all else has fallen apart." There may be no way for me to take my son to those lazy rainy days in my veranda Mirpur of Nanu, but the hope is to keep my roots and ancestry alive in him through the magic of stories and flapping pages.
Sarah Ismail Bari is a full-time corporate slave, overtime mom, part-time reader, and chronic dreamer.