An East Texas artist displays her culture through her works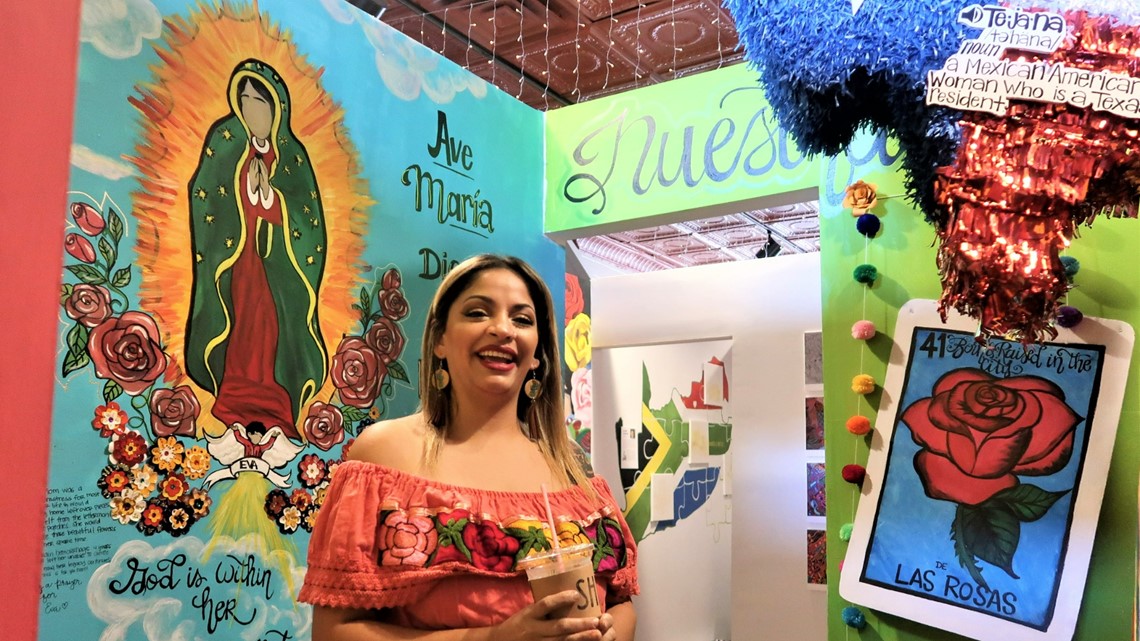 Jessika Wilson has combined her passion for art and her Mexican roots to bring myths, religion, music and traditions to life in her exhibition.
TYLER, Texas — On four colorful, hand-painted walls Shine Coffee In downtown Tyler, the works of Jessika Wilson are not the only thing on display, but also her culture.
Born and raised in Tyler, Wilson grew up in a Tex-Mex family where her parents, Robert and Eva Garcia, made it a priority to teach their children about their Mexican heritage.
"I'm a third-generation Mexican-American and people ask me how I know Spanish. I tell them it's because my mom made it a point to know it," Wilson said. "I feel like in a lot of our households, we make it a point to keep our heritage strong. And that's what makes me so proud that after three generations I speak Spanish. Maybe not so good but I know it well enough to pass it on with my children."
From an early age, Wilson knew she wanted to be an artist, and her mother opened up her creativity.
"My mom was so crafty and growing up, I watched her turn the scraps of her seamstress work into pretty flowers. I remember going to a career day dressed as an artist as a little girl," Wilson said. "So it was always around me, it's something I really love and now it's a huge part of my life."
Although Wilson is passionate about art, she said she thought it was something stupid to be good at and it wasn't until four years ago that she decided to finally take up her passion. seriously.
"When my mom got sick I quit my job to take care of her and that gave me more time during the day so I chose art," Wilson said. "Then the opportunity came along to be part of the Shine art show and I can't think of Ms. Suzy enough to feel confident about myself."
Inspired by a trip to Mexico with her husband, Wilson combined her passion for art and her Mexican-American roots to bring myths, religion, music and lore to life in her exhibit.
"I specifically wanted people to come here and be like, 'I resonate with the artwork.' Even though some of us aren't Catholic, we recognize the Virgen de Guadalupe, we all love the music of Selena, we look at all these remedies and laugh," Wilson said. "I wanted people to know about my culture and even though you might not be Hispanic, you can relate to it somehow."
Since participating in the Shine exhibit, Wilson has put her artistic skills to the test by painting murals at local businesses King Torta and Cup O' Joy.
"It's been such a blessing to be part of other people's travels. I've met several other Hispanic business owners who have given me the opportunity to do some cool murals," Wilson said. "It's just another challenge for me and when I'm done I surprise myself every time. It shows me that I'm capable of doing murals and so much more."
As a proud Tejana and Mexican-American, Wilson celebrates Hispanic Heritage Month to never lose sight of what her culture is all about.
"Every nationality, every culture and tradition passed down from generation to generation is important," Wilson said. "It's important to always be proud of where you come from and not let anyone take that away from you."
As for the future, Wilson will continue to create artwork and grow his business, Bee Original Co. where she sells some authentic embroidered Mexican clothing and accessories.
"I would like my business to be a place where people can feel safe and (continue) to empower women to feel comfortable in their own skin. I want to open a place not just for shopping , but where I can do (art) workshops so people can participate and be creative with me," Wilson said.
Wilson is excited to continue sharing her Mexican-American culture through her artwork with the community.
"I understood what art really is and how art can bring joy to others," Wilson said. "I really love creating things that people will love, and I want them to feel that joy when they see my art."
RELATED: Hispanic Heritage Month: Miss Tatum Latina Seeks to Lead the Way for Latinas
RELATED: Hispanic Longview Leaders Make a Difference